You are here: All Brands > Moulin Roty
---
A sneaky preview…
---
Choose a family
La Grande Famille are a wonderful collection of soft toys with long limbs and smart clothes from Moulin Roty. Simply translated to mean 'Big happy family'. La Grande Famille – get to know the family.
Les Parisiennes are probably the most elegant Moulin Roty family at Little Tiger Gifts. Take a look at the very stylish and tres chic range here – Les Parisiennes – here comes the girls.
Les Zazous are a collection of very soft, long limbed animals from Moulin Roty. Each one comes in a beautifully illustrated gift box. Les Zazous – meet the rest.
Moulin Roty Les Petits Dodos is a lovely nursery collection new for 2017. It includes comforters, soft toys are rattles all in soothing pastel shades of pinks, yellows and greys.

A lovely ballet inspired nursery range by Moulin Roty of owls, rabbits, otters and mice. Includes comforters, rattles, squeaky toys and soft toy. Mademoiselle et Ribambelle – Positions please.
Les Coquettes by Moulin Roty are beautiful rag dolls with removable pattern dresses and spotty knickers. Each doll comes with her own fabric bag. Les Coquettes – bag a rag doll.
The Moulin Roty Les Papoum family features a range of super soft nursery gifts including a hippo, lion and elephant. Choose from a range of rattles, comforters and soft toys.
Moulin Roty Les Pachats are a collection of three wonderfully soft cats. There is Purple Cat, Cream Cat and Green Cat. Les Pachats – Meet the Kitties, Meooow.
This is a truly beautiful collection of soft toys and hand puppets, inspired by the characters of old Music Hall. Il etait une fois from Moulin Roty – the show must go on.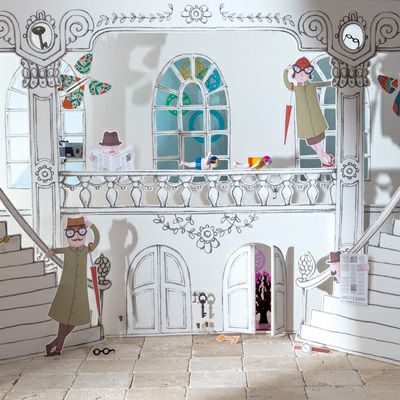 Les Jolis pas Beaux from Moulin Roty are a range of quirky friends made from a mixture of textures and fabrics. Simply translated they are 'Pretty Uglies'. Les Jolis pas Beaux – meet and greet the uglies.
Les Tartempois are a range of quirky and loveable characters including gymnasts, tightrope walkers and balancing bubble blowers to name a few. All with super long limbs and soft fur.
See the entire Little Tiger Gifts range of products. Moulin Roty collection.
Moulin Roty Collection at Little Tiger Gifts…
We love Moulin Roty at Little Tiger Gifts. We have one of the largest ranges of Moulin Roty products available online in the UK and shipped from the UK and are proud to be an authorised retailer of Moulin Roty toys. We can have your order dispatched the same day and gift wrapped as well if required!
Take your time to browse through our wonderful collection of soft toys and newborn gifts. Simply select a Moulin Roty family or use our search facility at the top of the page.