You are here: All Brands > Moulin Roty
---
A sneaky preview…
---
Choose a Moulin Roty family…
La Grande Famille are a wonderful collection of soft toys with long limbs and smart clothes from Moulin Roty. Simply translated to mean 'Big happy family'. La Grande Famille – get to know the family.
Les Parisiennes are probably the most elegant Moulin Roty family at Little Tiger Gifts. Take a look at the very stylish and tres chic range here – Les Parisiennes – here comes the girls.
Olga's Travels is a beautiful collection including geese, foxes, whales and mice. Available are soft toys, comforters and rattles. See the Moulin Roty Olgas Travels collection here.
Moulin Roty Apres La Pluie is collection of animals created by stylist Lucille Michieli. The design has been inspired by childhood memories and her affinity for Japanese drawings.
Les Roty Moulin Bazar are a quirky bunch of Moulin Roty soft plush animals which we are sure you will adore.
This is the adorable Moulin Roty La Famille Mirabelle family. This lovely collection features a family of mice and rabbits who all live under the shade of a large oak tree.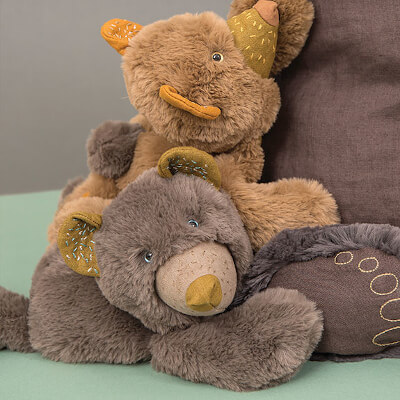 The Rendezvous Chemin Du Loop family from Moulin Roty is an ode to nature and features forest animals including wolves, hedgehogs and bears.
This is a truly beautiful collection of soft toys and hand puppets, inspired by the characters of old Music Hall. Il etait une fois from Moulin Roty – the show must go on.
Les Jolis Trop Beaux (The Pretty ones). This lovely Moulin Roty range features bears, mice and rabbits made from different textiles and fabrics.
Moulin Roty Les Petites Merveilles range is all about traditional, timeless toys. The range includes spinning tops, a kaleidoscope and wonderful shadow puppets to create your own stories with.
Moulin Roty's latest family is the wonderful nursery range Sous mon Baobab featuring, giraffes, elephants and lions.
Moulin Roty's Dans la Jungle is a new activity range featuring four brightly coloured jungle friends. This exciting and vibrant collection includes comforters, rattles and wooden toys. Perfect for play and exploring.
See the entire Little Tiger Gifts range of products. Moulin Roty collection.
Moulin Roty Collection at Little Tiger Gifts…
We love Moulin Roty at Little Tiger Gifts and have one of the largest ranges of Moulin Roty products available online in the UK. In addition to this as a UK business all our products are shipped from the UK rather than France or some other countries. Little Tiger Gifts are proud to have been an authorised retailer of Moulin Roty since 2012. Over this time we have amassed a great knowledge in all things Moulin Roty and have seen many families over the years. We continue to be a 5 star rated retailer so feel free to ask us any questions you may have regarding the brand and its products, past or present.
Take your time to browse through our wonderful collection of soft toys and newborn gifts. Simply select a Moulin Roty family or use our search facility at the top of the page.
We can have your order dispatched the same day and gift wrapped as well if required!